Photographer Combines Light Painting with an HDR Moon Photo
Astrophotographer Andrew McCarthy is known for getting creative with his craft, capturing awe-inspiring photos of celestial bodies from in and around his backyard in Sacramento. For his latest idea, he decided to combine light painting and astrophotography into this unusual, dazzling photo of the Moon. "When painting and photography mix, you get results like this," […]
Astrophotographer Andrew McCarthy is known for getting creative with his craft, capturing awe-inspiring photos of celestial bodies from in and around his backyard in Sacramento. For his latest idea, he decided to combine light painting and astrophotography into this unusual, dazzling photo of the Moon.
"When painting and photography mix, you get results like this," McCarthy writes. "This is a blend of one of my HDR moon shots with 'light painting': capturing a long exposure while drawing shapes in open space with light."
McCarthy didn't actually move light around the Moon, of course. Instead, he carefully created a separate light-painting photo that could be blended seamlessly into his photo of the Moon.
"To do this I had to modify an equatorial mount with 3D printed parts and add a series of tiny LED lights to match the shape of the moon and give things a sense of motion," McCarthy says.
Here's a photo of the lighting rig he used: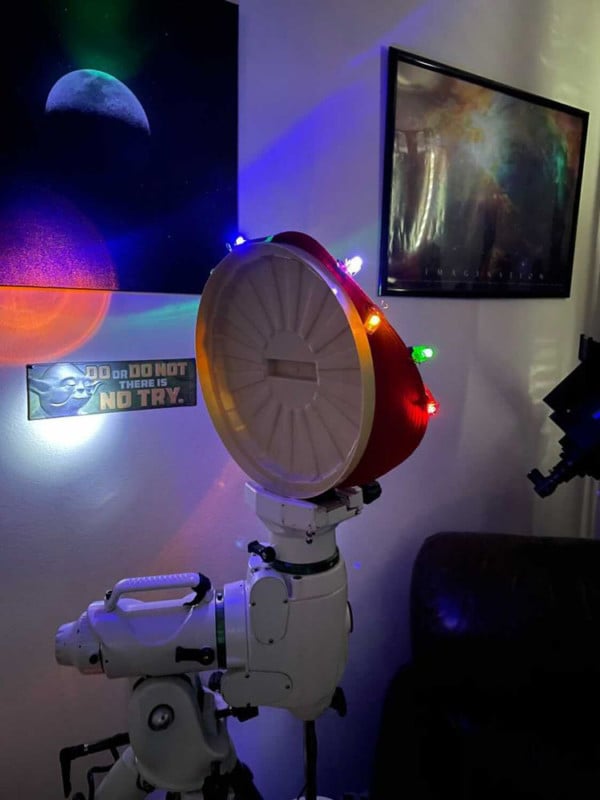 The Moon half of the final image was shot by stacking a great number of shots captured with a $1,350 Celestron Edge HD 800 telescope and a $349 ZWO ASI178MM monochrome astrophotography camera. The light-painting half of the image was captured using a Canon 6D and a Sigma 50mm f/1.4 DG HSM ART lens.
After some trial and error with adjusting the look of the lights, McCarthy captured a light-painting photo of light trails that he was happy with and then blended it with his Moon for the resulting picture.
"This image reminds me of the opening sequence of 'The Expanse' and makes me think of the future of humanity," McCarthy writes. "Do you think we'll live to see the moon become colonized, to the point where the sky traffic looks like this?"
We've previously shared a number of non-light-painted photos of the Moon by McCarthy, including one that combines parts from every phase, one that combines 150K photos to reveal hidden colors, and an ultra-clear one that combines 50,000 pictures for an 81-megapixel view.
You can purchase a print of "Luna in 2021" over on imagekind. You can also find more of McCarthy's work on his Instagram and download high-resolution versions of his images by becoming a Patreon supporter.
(via Andrew McCarthy via DIYP)
---
Image credits: Photographs by Andrew McCarthy and used with permission